Next Meeting
Monday, May 4, 2015 @ 6:45 PM
Western Sizzlin Restaurant, 3492 W.Sunset
Springdale AR.
The monthly club rides are back!
The Sunday immediately following the monthly meeting and weather permitting, we will be riding to various places around Northwest Arkansas.
All are welcome to join in on the fun. Check here and our facebook page for more detailed information as these rides occur.
NOTE- Our April ride has been changed to SATURDAY THE 11TH because of rain forcast for Sunday. We plan to meet at Agri park in Fayetteville AR between 11-11:30am
(Take the Highway 112 exit (Exit 66) from I-540 (I-49) and travel south on 112 approximately 0.8 miles. The park will be on your left.)
Ride backroads through Devils Den area to Grandma's resturant on Mt.Gaylor (Winslow area) for lunch, listen to some music at the nearby ozarkfolkways attraction,
ride back TBD.
There is going to be a Vintage Motorcycle Exhibit at the Fort Smith Museum of History this May!
The exhibit will run in conjunction with the Steel Horse Rally being held on May 1-2 in Ft. Smith.
The museum is seeking the loan of some rare or interesting bikes for this exhibit, if possible with some connection to
Fort Smith and the surrounding Area. Click here for the museum's webpage on this event.
Contact Leisa Gramlich at the museum for more information or to submit your motorcycle for her consideration.
The Cherokee chapter of the Antique Motorcycle Club of America is sponsoring
a huge swap meet and motorcycle show in conjunction with the 2015 Pate Swap Meet
being held at the Texas Motor Speedway just north of Ft.Worth Tx.
We have been wishing for a large vintage motorcycle swap meet closer to us, and here it is! Click here for the flyer on this event.
and look under calendar for a link to their website.
click here for a list of the 2014 OVMA/BBBBQ vintage bike show winners.
Our calendar page has been updated with the latest information we have
on upcoming vintage motorcycle events, check it out.

The OVMA is seeking new members!
If you have an interest in vintage motorcycles of any type, then this is the club for you.
We welcome members with modern bikes, members with no bikes, all you need to do is like bikes.
Come out to our next meeting, and see what we are all about!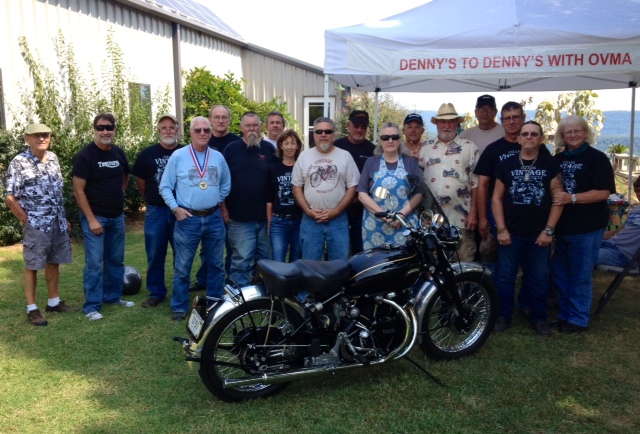 The Ozark Vintage Motorcycle Association
was formed to sponsor and promote activities for the preservation and enjoyment of vintage motorcycles. We are a non-profit corporation and meet the first Monday of each month in the Northwest Arkansas area. The OVMA is managed by a board of directors who are elected by members. Membership is open to any individual that has an interest in vintage motorcycles. The mission of the Ozark Vintage Motorcycle Association is to encourage and develop motorcycling for the benefit and enjoyment of its members.
Our objectives are to encourage the ownership, collection, preservation & restoration of any motorcycle, organize rallies, shows, displays and other events, and to provide an organization to carry out services required by its members. We sponsor rides, runs and swap meets, as well as vintage motorcycle shows throughout the year and invite interested vintage motorcycle owners to join our association.

OVMA is associated with AMA http://www.ama-cycle.org/


For any questions or gripes about this site,call or email me.
Jim 479-531-2549 email: parksidemo@sbcglobal.net

Classic Motorcycle Webring

Powered by Webring