Next Meeting
Monday, May 4th 2014 @ 6:45 PM
Western Sizzlin Restaurant, 3492 W.Sunset
Springdale AR.
Bentonville BMW has their annual open house and swap meet scheduled for Sat. April 19th.
So, dust off some of those old parts that you have been hoarding, and come on out.
Call 479-273-1807 for any questions.

Our annual Blowing Springs rally, bike show and swap meet has been scheduled for Sunday, June 22, 2014.
Members, we need your input, so come out to the May 4th meeting and let's continue planning on how to
make this the biggest and best show yet!

The OVMA is seeking new members!
If you have an interest in vintage motorcycles of any type, then this is the club for you.
We welcome members with modern bikes, members with no bikes, all you need to do is like bikes.
Come out to our next meeting, and see what we are all about!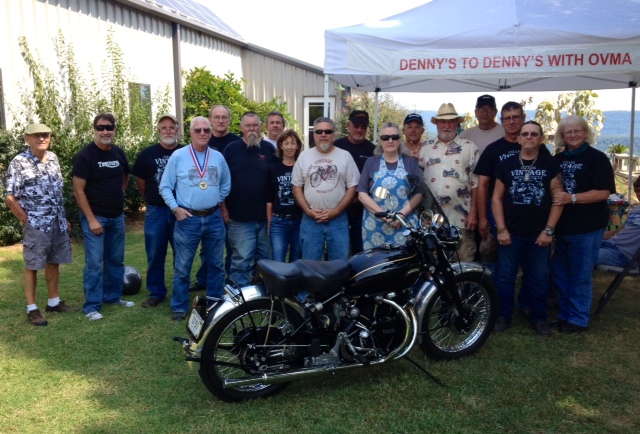 The Ozark Vintage Motorcycle Association
was formed to sponsor and promote activities for the preservation and enjoyment of vintage motorcycles. We are a non-profit corporation and meet the first Monday of each month in the Northwest Arkansas area. The OVMA is managed by a board of directors who are elected by members. Membership is open to any individual that has an interest in vintage motorcycles. The mission of the Ozark Vintage Motorcycle Association is to encourage and develop motorcycling for the benefit and enjoyment of its members.
Our objectives are to encourage the ownership, collection, preservation & restoration of any motorcycle, organize rallies, shows, displays and other events, and to provide an organization to carry out services required by its members. We sponsor rides, runs and swap meets, as well as vintage motorcycle shows throughout the year and invite interested vintage motorcycle owners to join our association.

OVMA is associated with AMA http://www.ama-cycle.org/


For any questions or gripes about this site,call or email me.
Jim 479-531-2549 email: parksidemo@sbcglobal.net

Classic Motorcycle Webring

Powered by Webring