Next Meeting
Monday June 4th 2018
7:00PM at Western Sizzlin Restaurant in Springdale AR
See you there!
NOTICE!
At the May meeting there was a motion made to change the start time for the meeting
from 6:45pm to 7pm, and it was carried unanimously.
Beginning with the June meeting the new meeting time will be 7pm.
The day and location will stay the same.

OVMA Group ride to Second Kick museum and restaurant in Grove OK. this Saturday May 12th
Meet at Krispy Kreme donuts in Bentonville on Walton Blvd just past the I-49 exit
Kickstands up around 9;30am, about an hour-hour and a half over to the museum
Meet us there if it is closer or more convenient for you.
It should be a great day for a ride warm and sunny!
See You There!

A big Thank You to all who participated in the 2017 OVMA Bikes on the Bricks Vintage Motorcycle Show!
This Was one of our best events to date, with a total of 101 Beautiful vintage Motorcycles in the show.
From Rats to Exhibition, the variety of bikes in attendance was impressive!
I think everyone agrees that this new location is a much more comfortable place to spend a very warm day.
A special Thanks to the Downtown Rogers Partners group for making the arrangements with the city, thier very effective advertising, their generous cost sharing,
and everything else they did from the goodie bags to the street signs and so much more.
As usual, the club members came together and provided all the many different talents it takes to put on a show like this. To all of you that pitched in and did your part, be it
by bringing your bikes out or working before, during, or after the show- THANK YOU!
To All the new members, Thanks for joining, we will do our best to make you feel welcome, and we are looking foward to seeing you at the next meeting. ALSO:
be sure and visit facebook and search for Ozark Vintage Motorcycle Association to see lots of pictures of the event.

Who All Won? Click Here for the winners list.

The OVMA is seeking new members!
If you have an interest in vintage motorcycles of any type, then this is the club for you.
We welcome members with modern bikes, members with no bikes, all you need to do is like bikes.
Come out to our next meeting, and see what we are all about!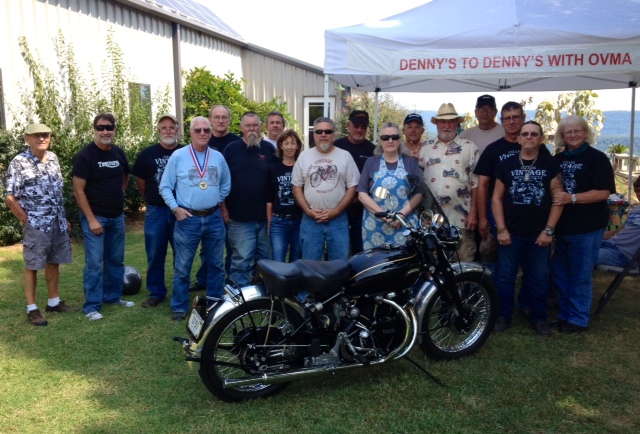 The Ozark Vintage Motorcycle Association
was formed to sponsor and promote activities for the preservation and enjoyment of vintage motorcycles. We are a non-profit corporation and meet the first Monday of each month in the Northwest Arkansas area. The OVMA is managed by a board of directors who are elected by members. Membership is open to any individual that has an interest in vintage motorcycles. The mission of the Ozark Vintage Motorcycle Association is to encourage and develop motorcycling for the benefit and enjoyment of its members.
Our objectives are to encourage the ownership, collection, preservation & restoration of any motorcycle, organize rallies, shows, displays and other events, and to provide an organization to carry out services required by its members. We sponsor rides, runs and swap meets, as well as vintage motorcycle shows throughout the year and invite interested vintage motorcycle owners to join our association.

OVMA is associated with AMA http://www.ama-cycle.org/


For any questions or gripes about this site,call or email me.
Jim 479-531-2549 email: parksidemo@sbcglobal.net

Classic Motorcycle Webring

Powered by Webring