Next Meeting
Saturday July 13 2019- Our July 4th club party and meeting. Members look for an e-mail with details.
Meeting starts at noon


Just a couple of reminders of upcoming events-
Saturday July 6 from 9am to 3pm we are holding a ride-in style vintage bike show at
Heritage Indian in Rogers. This is in conjunction with their 2019 Jack Daniels Heritage
Freedom Rally. There's lots of other events going on at the same time at the dealership, so there will be lots to do and see.
The club is needing 25-30 motorcycles in the event. From our point of view, this show is
a shakedown for our new online voting system being rolled out for our Bikes on the
Bricks event during BBBBQ. Also- Heritage Indian has been a major sponsor of our
Bikes on the Bricks show, so we should return the favor and help with their events when they need us.
At this time there looks to be about a 30 percent chance of rain, so bring a bike cover for each bike
you bring, just in case. Again, the main purpose for us is to tryout the new voting system,
and while there will be 1 trophy awarded in each of the basic categories of American,
Asian, British and European, they are not the object of the show. So shine up those great old motorcycles and come out and show them off!

Next, Don't forget that next Saturday the 13th, is our July 4th party and monthly club
meeting. Again this year it is being hosted by John and Bonnie
We will begin around noon and go until?
The club is supplying the meat, bread, chips, and water. Please bring a side dish and your
favorite beverage. This is always a fun time and a great time to catch up with all your
fellow club members.Club members be on the lookout for an email with the details.
I hope to see you there!

2018 was another great year for Bikes on the Bricks! 104 beautiful vintage motorcycles in the Show!
Again a big thank you to this years sponsors:
HERITAGE INDIAN OF NORTHWEST ARKANSAS - OUR TITLE SPONSOR
ABE SPARKS TILE SOLUTIONS- A GOLD SPONSOR
JOHNS MOTORSPORTS- A GOLD SPONSOR
OLD TOWN AUTOBODY- A GOLD SPONSOR
TALDO TILE- A GOLD SPONSOR
Thank you for your support!!

A big thank you to all of the club members and friends who worked the show!
A big thank you to all who participated and brought out all the great bikes!
A big thank you to all who attended the show!
We will be posting the 2018 winners list as soon as time allows, thanks for your patience.



Who all won in 2017? Click Here for the winners list.



The OVMA is seeking new members!
If you have an interest in vintage motorcycles of any type, then this is the club for you.
We welcome members with modern bikes, members with no bikes, all you need to do is like bikes.
Come out to our next meeting, and see what we are all about!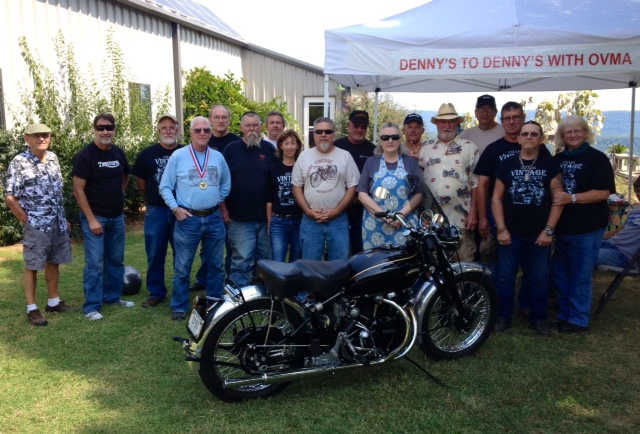 The Ozark Vintage Motorcycle Association
was formed to sponsor and promote activities for the preservation and enjoyment of vintage motorcycles. We are a non-profit corporation and meet the first Monday of each month in the Northwest Arkansas area. The OVMA is managed by a board of directors who are elected by members. Membership is open to any individual that has an interest in vintage motorcycles. The mission of the Ozark Vintage Motorcycle Association is to encourage and develop motorcycling for the benefit and enjoyment of its members.
Our objectives are to encourage the ownership, collection, preservation & restoration of any motorcycle, organize rallies, shows, displays and other events, and to provide an organization to carry out services required by its members. We sponsor rides, runs and swap meets, as well as vintage motorcycle shows throughout the year and invite interested vintage motorcycle owners to join our association.

OVMA is associated with AMA http://www.ama-cycle.org/


For any questions or gripes about this site,call or email me.
Jim 479-531-2549 email: parksidemo@sbcglobal.net

Classic Motorcycle Webring

Powered by Webring