This page is dedicated to articles, tech tips, and memorabilia
particular to vintage motorcycling.
Please feel free to call or email Jim if you have an interesting bit of information, a copy of a test ride, or any other tidbit that will advance our knowledge of the past glories of motorcycling.
Moto Guzzi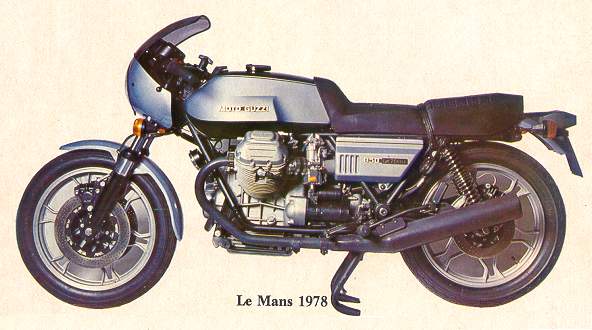 .
MOTO GUZZI LE MANS MK I Submitted by Steve Walker

What It Was
Sex on wheels – the Le Mans was a stunning looker. A combination of bright red (much preferred to blue as above), matt black and bare alloy in a tight and meaty package. and it went some too.
Now we think of Guzzis as being idiosyncratic and archaic. Twenty years ago they were just idiosyncratic, you couldn't argue with the performance. The Le Mans was faster than almost any other bike on the road in the 1970's and, unlike period Jap bikes, it stopped and went round corners too.

What It Is Now
Still sexy. A classic Italian motorcycle, and THE Moto Guzzi V-twin. The Mk I Le Mans is probably the most practical exotic classic bike you can buy. It'll take you two-up to the South of France (if you've got a stoic pillion and a sense of humour); it'll scratch down twisty roads (just don't expect to get used to Guzzi handling immediately), it'll turn heads (especially if it has loud pipes) and you can ride it to work.

How Fast?
132.15mph said Bike Magazine, August 1976. Although at that time they hadn't speed- trapped a Z1 Kawasaki, Ducati 900SS or the Laverda Jota, which were also up in the exclusive 130mph club. The Le Mans' optimistic Veglia speedo would have you believe this is a 150mph bike.
.
Basic Spec
Engine:
90º V-twin cylinder 4-stroke.
Power:
78 bhp @ 7,300 rpm (flywheel).
Torque:
< 57 lb/ft @ 6,600 rpm.
Starter:
pre-engagement type starter motor and flywheel ring gear (just like a car).
Clutch:
2-plate dry.
Primary Drive:
gears.
Gearbox:
5-speed constant mesh.
Final Drive:
cardan shaft and bevel gears.
Generator:
280 W 3-phase alternator.
Ignition:
battery/coil.
Brakes:
front, 2 x 300mm perforated iron discs, twin piston calipers – rear, single plain iron 242mm disc.
Frame:
tubular steel cradle.
Forks:
telescopic, Moto Guzzi patent sealed dampers.
Rear:
swinging arm, adjustable coil springs.
Wheelbase:
58.4".
Dry weight:
431 lbs.
Oils:
3.9 litres.
Fuel:
22.5 litres.

How Much?
Then, £1999 when a Kawasaki Z900 cost £1369 (and too much for my contemporary meagre Civil Servant's pay – snivel). Now an early Le Mans is the most sought after of Guzzi twins, but it's a top value classic buy if you're looking for a user rather than a mint condition original. Minters go for more than four grand, and they have been known to fetch £5500. I've even seen one in a museum! (Melrose, Borders Scotland, actually.) Good, clean, usable bikes, with useful modifications sell for £2500 – £4000. Watch out for fakes.

Know This
The 844cc Le Mans was introduced in 1976 as a replacement for the 748cc wire-wheeled V7 S3. The V-twin power plant was derived from an engine originally developed to power a light four-wheeled transporter for the armed forces. The compactness of the engine and the transverse configuration has made it ideally suited as a motorcycle power unit (Haynes manual, 1981). The Le Mans was among the first production bikes to feature triple disc brakes and cast alloy wheels. The brakes included a front/rear linked system (like Honda use now on the Blackbird, Pan European and VFR) in which one front disc and the rear disc were operated by the foot pedal, and the second front disc was operated by the handlebar lever. Then, as now, you either love it or loathe it. It was available in either red (yes) or pale metallic blue (no) and the little screen and fairing was standard.

Which One?
The Mk I is the one you want. The Mk II, which replaced the Mk I in the latter part of 1978, has a rectangular headlight, a Spada-like fairing and is generally considered not as pretty – it's not surprising therefore that lots have been converted into Mk I lookalikes. Post 1978, following models went downhill fast. Fashion rode rough-shod over sanity, resulting in hideous exercises in bodywork re-design, useless air assisted suspension that didn't work and 16 inch front wheels that were plainly dangerous. An increase to 1000cc (actually 948cc) in the Mk III (or was that Mk IV?) was a vain attempt to keep up with the Japanese, merely resulting in loads of vibration and a horrible flat spot occurring exactly in the most used midrange rpm band. The increase in capacity is not worth the extra insurance. Basically, therefore, the early 850 is impossible to better without going back to the drawing board. Guzzi parts are interchangeable between models, which means that it's easy to convert a Mk II into a Mk I, and only slightly more difficult to turn a cooking 850 T3 into a Le Mans impersonator. As a guide to spotting a fake, all engine and frame numbers for Mk I and Mk II Le Mans' should start with the prefix letters 'VE', but they never match. The Mk II has different forks, yokes, instruments and ignition switch location to the Mk I, But it's possible to do a very convincing job of turning one into the other.

What Was Wrong With It?
Not much if you ignore the heavy throttle and the awkward riding position. Old Guzzis keep running forever if you treat them right, mileages of over 150,000 aren't uncommon. The stock exhausts were a bit restrictive but could be replaced, but the air filters weren't restrictive enough – in fact there weren't any filters originally – fitting aftermarket is a good idea and there are lots of sensible modifications which may be made to a cared for and used machine. 95Occ big bore kits, deep sump conversions and camshaft drive gears are valid. An aftermarket dualseat should improve comfort, and rearsets help too.

Virtues
Simplicity. Moto Guzzi engineering is chunky, solid and about as complicated as that for a steam locomotive, so it's easy to work on at home with simple tools. Plus shaft drive! No 'orrible nasty filthy drive chains that demand you keep oiling and adjusting.

Disadvantages
Shaft drive absorbs a lot of power, especially as all the gears are helix toothed to minimise noise. Hence power output is most often quoted as that at the crankshaft.



Tech Tips
Hey gang!
Here's a simple money saving tip some may not be aware of :
For bikes without electric start, sealed lead-acid and gelcell batteries are available for other applications and work well in our kickstart bikes.
Battery Outfitters on HWY 102 between Bentonville and Rogers has a good selection in 6 and 12 volts and I've bought several from Radio Shack.
I've run one in my SR500 for almost four years and another in my CT90 for three years with no trouble, zero maintenance, and no worries about corrosion.
Just get the maximum dimensions inside your battery box and find one to fit. I use foam rubber to takeup extra space and insulate them from vibration.
Another tip:
We can get antique m/c tags at the Bentonville Revenue Office. I did this today myself and all that's needed is the usual paperwork you'd have to get a regular tag; signed title, proof of insurance, and proof of assessment. And of course the bike must be at least 25 years old. No waiting! No notarizing! Cost is $13.00 and it never has to be renewed!
Submitted by Kevin Wilfong 3/12/08
The following was submitted by Denny Luke. The 3 pictures are 3 pages from an article in the Entertainment Fort Smith magazine, August 2006 issue. Copied with permission from Lynn Wasson 1/17/08. Their website is www.efortsmith.com/ To read the article, click on each picture and it will open in a new window that you can enlarge.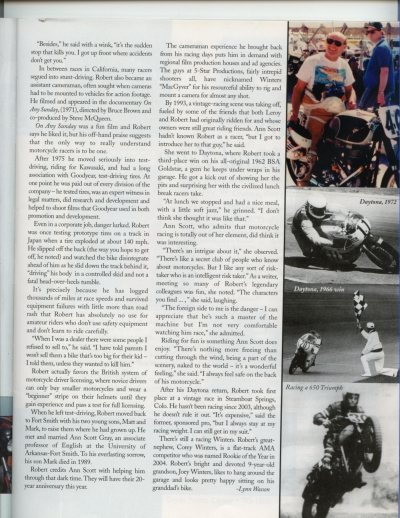 MOTO GUZZI Submitted by Steve Walker
The 1973 Moto Guzzi V7 Sport motorcycle a fine example of the Italian motorcycle maker's long-awaited change in design philosophy.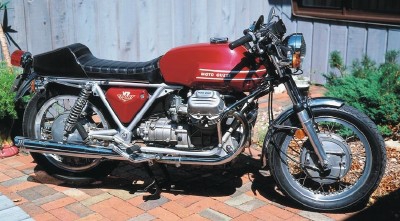 The 1973 Moto Guzzi V7 Sport' s mechanical layout
promoted a low seat height, low handlebars,
and a low center of gravity for good handling.
Moto Guzzi began building motorcycles in 1920, and quickly became known for its horizontal single-cylinder engines with the cylinder pointing straight out toward the front wheel. Surprisingly, this design carried on for more than 45 years with only minor changes.

Most of these singles displaced about 500 cc, and though many Moto Guzzis had a sporting nature, none were really fast.

During that same time period, however, the company produced some racing machines that were very technically advanced, including supercharged triples and, in the mid-1950s, a magnificent V-8.

It wasn't until the mid-1960s that Moto Guzzi replaced the horizontal single with its now-famous V-twin. Mounted in a bike called the V7, this engine initially displaced 700 cc, but was bumped to 750 cc in 1969.

The V7 used shaft drive in place of a chain, and when fitted with the proper accessories, made for an impressive touring mount. But in an effort to reach a more sporting audience, Moto Guzzi rolled out a trimmed-down version that was called -- appropriately -- the V7 Sport.

Early models, such as the 1973 Moto Guzzi V7 Sport motorcycle example shown here, had a silver-painted chassis, though later models switched to basic black.

All Moto Guzzis got a new frame and a front-mounted alternator in 1972, which allowed for a lower seat height; in the case of the V7 Sport, it measured only 29-1/2 inches off the ground.

When combined with the Sport's relatively flat handlebars, it resulted in a low riding position and low center of gravity, which helped the 1973 Moto Guzzi V7 Sport motorcycle hold true to its name.